I would not describe myself as a jewelry-wearing kind of person. I tend not to wear jewelry on a daily basis due to the uncomfortable feeling of having my fingers or neck "weighed down" by pieces of metal. However, recently I have had a growing interest in all kinds of jewelry with ancient symbols.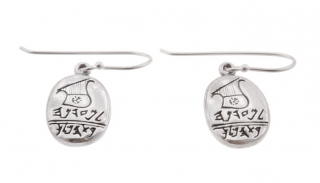 My recent discovery of ancient symbol jewelry
As of late I have found jewelry displaying ancient symbols to be absolutely riveting. Not one to wear jewelry on a daily basis due to feeling "weighed down" by it, I find myself changing my mind when seeing all the wonderful different kinds of ancient-symbols jewelry on the market. I find the idea of wearing inscriptions from ancient times, materials found on archaeological digs and sacred geometry shapes just fascinating. No longer am I putting a meaningless something on my body, but I am connecting to the past, wearing a piece that begs to be explained to others and more often than not also turns heads.
Sacred Geometry Shapes
My latest discovery is that of jewelry that displays sacred geometry shapes. Such symbols have been found, and I believe will continue to be found, on the faces of rocks, pillars of stone, ancient temples and manuscripts. These etchings often reveal profound messages that were intended to be passed along to fellow members of the clan and perhaps even to people of the future.
Cultures from different periods of time carved shapes that ranged from simple shapes to incredibly complex patterns. One shape that seemed to appear consistently was the spiral shape. It was these people who lived off the land who left these carvings that we are discovering until today.
As far as deciphering the shapes is concerned, it is not simple. Although some have been deciphered, others remain a mystery. This is another aspect that I love about jewelry with ancient symbols- there is something utterly mysterious waiting to be discovered…
The Flower of Life
One of the ancient symbols that has been found all over the world is called the Flower of Life; Apparently, the Flower of Life contains a secret shape called the fruit of life. The shape contains thirteen spheres and according to some, these spheres actually hold within them a number of geometrical and mathematical principles that represent the universe. To give someone a piece of jewelry that features the Flower of Life is giving a symbol that represents the order of the cosmos- now if that isn't insane what is?!
For the religious amongst us, it is interesting to discover that the Flower of Life is common to all major religions! In ancient Egypt, it is featured on the ancient Abydos Temple; in Israel it is displayed on ancient synagogues in the Galilee and on Masada; it can be found in medieval cathedrals and can also be found in tens of different countries around the world, including China, Japan, European countries, North Africa and America.
What is fascinating is that people who wear the Flower of Life will often report physical and psychological phenomenon and this is not by chance- the Flower of Life is known to be the strongest of all sacred geometrical shapes. I have yet to wear the shape but will be sure to let you know if I feel anything different when wearing it!
Just the tip of the iceberg…
This introduction to the Flower of Life symbol should serve, I hope as inspiration for you to check out other ancient symbols that are special to your culture and religion or even global such as this one. There is a whole fascinating world of ancient symbol jewelry out there to explore and I highly recommend getting acquainted with it!
Featured images:
 

License: Image author owned
Uriel Sela is one of the partners at Ajudaica.com.Ajudaica offers unique ancient designed jewelry such as in the above post. Wether you wish to choose your own or you wish to surprise your loved one with unique and meaningfull gift, http://www.ajudaica.com/category/593/Israeli_Museum_Jewelry/ is your place to do it.